THE MANGLER
By Raymond Knowby

Okay, I want to know who had the brass sack to put Ted Levine in the lead hero role. Was that your certified genius at work, Tobe? Somebody shake that bearded bastard's hand! Truthfully, if I could give this one sixty five stars based on Mr. Levine and his unique speech impediment alone, I would. But the rest of the hilarious shit around him just cannot be redeemed.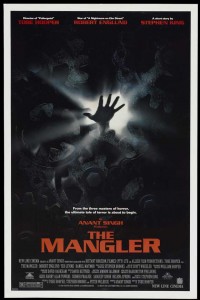 Based probably very loosely on Stephen King's novella (I haven't read it), THE MANGLER is the retarded tale of a laundry press that becomes possessed after a factory worker bleeds into its internal components. There's some nonsense about concentrated negative energy inhabiting non-living objects, and a line of mystical mumbo-jumbo that is attempted to be explained through the film's secondary protagonist (a long-haired hippy/spiritualist) but Ted calls him out rightly on it and reveals it to be the bullshit that it really is. With a few priceless investigative and expositional scenes, followed by a plot that involves sacrificing Englund's virginal daughter to the satanic industrial machine, the narrative then meanders messily along to arrive at a wonderfully dunderheaded final battle.
As you can imagine, this is a seriously hack-job thing in every instance, and may become an Evil Dead II-esque favorite in some circles. Robert Englund doing his Freddy Krueger role in different clothing (and with a fake machanical leg). Disgusting KNB effects. Terrible CG work on the climactic fight between man and runaway laundry press. And "picture man", of course, but I'll leave that pleasure for you to discover on your own.
One of the best terrible movies I have ever seen. It took awhile to finally find an overpriced home on dvd in the 2000's, but a little searching can dig up a copy for relatively cheap now online.