JAWS
By Raymond Knowby

The feature directorial launch of Steven Spielberg, this fantastic screen adaptation of Peter Benchely's best selling novel is still the king of all "don't go in the water" fright flicks. Great performances by a solid cast (Roy Scheider, Richard Dreyfuss, Robert Shaw, Murray Hamilton) and a terribly realistic mechanical great white will make anyone think twice about swimming in the ocean.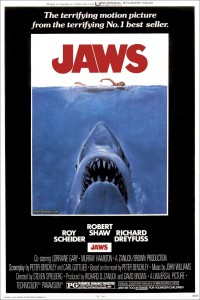 Off the small coast of Amity, a female body washes ashore bearing the telltale signs of a shark attack. Chief of police Brody (Scheider) consults the expertise of marine biologist Matt Hooper (Dreyfuss), and after another grisly attack on a young boy hires the bounty hunting hand of a local skipper (Shaw) to bring down the feeding machine that is brutalizing his waters.
A tight script and character interplay is key here, and with a top notch acting ensemble handling the responsibilities you'll be pulled with ease into this big scary fish tale. Spielberg's undeniably natural talent for framing composition, geography, and narrative acumen are shaped further by a perfect editorial job from Verna Fields –seriously, there's not an ounce of fat on this sucker, which probably explains why it became the first bona fide summer blockbuster. On other interesting note, because of technical issues, the screen time of the shark prop had to be much more limited than planned, which ended up working in favor of the execution (you see just enough in the wide reveals to fill in the blanks yourself for the rest). Chalk a major victory up for the 'less-is-more' theory.
As if that all weren't enough good fortune, there's also John Williams brilliant score, one of his best original themes, and hellishly effective alongside the starring creature.