HALLOWEEN III: SEASON OF THE WITCH
By Raymond Knowby

Once you get used to the fact that this has absolutely nothing in common with the rest of the series, you might find a pretty cool INVASION OF THE BODY SNATCHERS type chiller underneath. John Carpenter and Debra Hill were done with the previous plotline, having killed off their babysitter murdering creation for good, so the plan was to do a "Halloween" themed horror picture seasonally to explore different avenues. This idea was cancelled, obviously, since this here experimental endeavor crashed and burned at the box office.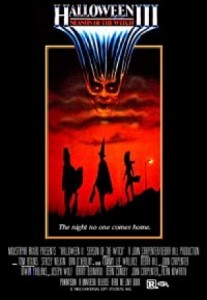 A mad novelty maker (portrayed with relish by Dan O'Herlihy) schemes to kill the children of the world on Halloween night with witchcraft-induced trick-or-treat masks. When a doctor (Tom Atkins, pulled into the affair after treating a patient injured by the maniac) unravels the diabolical intentions with a girl also looking for her missing father (Stacey Nelkin), it's a race against the clock to stop the mass infanticide from seeing fruition. If you let it be what it is, this nightmare from Tommy Wallace (FRIGHT NIGHT II, IT) has enough of the twisted and macabre to stand on its own. Dean Cundey's top notch photography, Tom Berman's ghoulish effects, and another great John Carpenter score with Alan Howarth round out the package.
Lots of people hate this entry, just for the fact that it isn't a true Michael Myers sequel. Personally, I think it looks and feels more like a HALLOWEEN flick than most of the Shape-returning chapters that follow, since the team responsible for the first two crafted and instilled similiar aesthetics.