HALLOWEEN 5: THE REVENGE OF MICHAEL MYERS
By Raymond Knowby

Michael's back to Haddonfield to chase after his niece some more (Danielle Harris), who, in this chapter, has a telekenitic bond with her uncle that foreshadows when he's about the strike. Almost works in places, but too many subplots and no real ending leave the narrative pretty sloppy. Nice make-up, for the most part, and atmospherically some of this film is definitely unnerving, but the script is just not quite up to previous standards.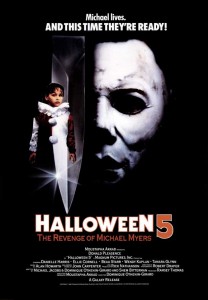 Set a year after the events of HALLOWEEN 4 (and following a pre-credit recap of its events), this new installment sees Jamie Lloyd institutionalized from the previous ordeal and her murderous uncle comatose under a volley of lead dealt out by the local police force. Found by an unlucky hermit, the "Shape" is nursed back to health while his mute female target, now unable to communicate except through written words, picks up his presence when he revives and returns to finish what he began. Dr. Loomis is also still around, almost as batty now as his former patient (Pleasence still has some great zingers left in him), using the poor battered child as bait to try and trap the undying nemesis.
Director Dominique Othenin-Girard manages some dread here and there, and Ms. Harris turns in a blazing child performance, but ultimately the disjointed story causes far too much strain on the cohesive whole. There are also some curious errors for such a high profile production, namely a few visible jump-cuts and rather poor ADR. Though not a total waste, it still signals the first real disappointment in the saga.