HALLOWEEN 4: THE RETURN OF MICHAEL MYERS
By Raymond Knowby

Between the box-office failure of a Michael-less HALLOWEEN III and fan interest to revive the franchise, HALLOWEEN 4: THE RETURN OF MICHAEL MYERS surfaced in a particularly dry period of late 80's slasher movies. To be perfectly honest, there's some fairly good stuff here if you must go past the first two classic films, and while John Carpenter, Debra Hill, and Jamie Lee Curtis aren't involved, there's still at least one familiar veteran staring down from top of the bill.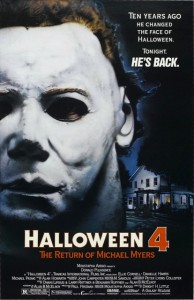 Ten years after psychopath Michael Myers nearly burned to death in a fire, his legacy of murder still haunts the small residential town of Haddonfield. As the picture opens, a transfer personnel team are moving the mental patient from a maximum security institution to a new prison, and although he's been in a coma for a decade, the madman suddenly awakes with a vengeance. Returning to his home once again to track down his niece (Danielle Harris), he's of course followed by a scarred and unhinged Dr. Loomis (a fantastic Donald Pleasence), who plans to stop him dead before he can finish off his bloodline.
Director Dwight H. Little manages to mimic a Carpenter feel (why, though, did he not shoot in the anamorphic ratio to preserve series continuity?), and after a seven year hiatus it's nice to see both doctor and patient back in the battle on the big screen. There's enough cool sequences strung together to keep the pace interesting and tense, and a twisted ending that actually rolls the story into a nice loop, but what a shame it didn't end here while things were still ahead.