EYES OF A STRANGER
By Raymond Knowby

A better slasher than most of its contemporary ilk that seemed to be unfairly forgotten and left behind. Possibly due to not catering to the holiday theme of most early 80's splatter titles, or maybe just because of poor distribution on Warner Bros. behalf, but whatever the case, seek it out and you'll be rewarded with a unique and taut little thriller.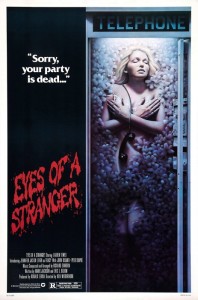 In Miami, a madman is terrorizing single women, first by threatening phone calls, and then by rape and murder. When a television reporter (Lauren Tewes) following the crimes suspects a quiet introvert in her highrise apartment complex of being the perpetrator (John Desanti), she embarks on a dangerous vigilante mission to expose him. To make things even more interesting, she lives with and cares for her disabled younger sister (fantastic performance by a debuting Jennifer Jason Leigh), who lost her vision after a traumatic abduction as a little girl. As the killer realizes he is being closed in on by his meddling neighbor, he then sets his sights on her helpless teenage ward and pursues her into a suspensful climax.
This subplot is what really holds the picture together, thanks to excellent acting from both Leigh and Desanti. Director Ken Weiderhorn does a competant job staging the events from a lean script, with the helpful addition of graphic make-up effects by a then high-in-demand Tom Savini (who at the time had his hands full doing what seemed like every stalker picture on the market). Although his work was allegedly toned down by the MPAA, it was still enough to keep the shocks on par with all the competition.