EVIL DEAD 2: DEAD BY DAWN
By Raymond Knowby

Forgetting all about the original (and somewhat recapping it in the opening ten minutes), EVIL DEAD 2 takes everything about the first movie that was great and sits it on its ear. The blood still spurts (this time in MPAA favored colors), the dead still attack the living, but overt slapstick enters stage left and takes a campy throat hold.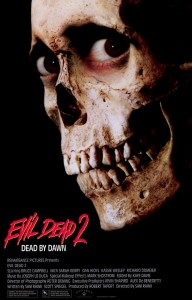 Sole survivor of the first massacre, Ash (Bruce Campbell) returns to the cabin in the woods with a new girlfriend (Denise Bixler). All goes to pot on him once again, and he's forced to kill her, lop off his own right hand, and run the distance with a collection of soul hungry demonic spirits. Joining him in the good fight a little later are a redneck couple (Dan Hicks and Kassie Wesley) and two young archeologists (Sarah Berry, Richard Domeier) responsible for finding the accursed Necromicon causing the destruction.
This chapter is done for laughs primarily, and remains a classic trove of quoted one-liners, but honestly it's a hammy B flick at best. Not that the original was some tasteful masterpiece, certainly, but the style was at least genre friendly and the overall tone chilling. The first time I saw this one, I remember thinking it was the silliest thing ever put to screen. The dialogue, story, acting, and stop motion effects were just so intentionally goofy and hilarious, it was impossible to not begin cracking up.
So while it may be light on fright, it is definitely memorable, and it stuck in my head forever as a sort of ROCKY HORROR PICTURE SHOW cult thing. This was before it was followed up by ARMY OF DARKNESS, and considering the shift that would emerge, this picture does a decent job of bridging that particularly screwball gap.